Adding category
For further details on adding categories, read the article after this one: http://codex.wordpress.org/Manage_Categories_SubPanel.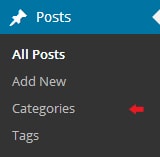 Log into your WordPress Administration Panel (Dashboard).
Click the Posts tab.
With that done, click Categories for blog posts.
Type in the name of your new category.
After that, click the Add New Category button.
Click the Publish button.